EU Environmental Policy Overview
Objectives and principles for the implementation of environmental policy in the EU are set out in the Treaty on European Community, Head XIX.
The EU Environment Acquis includes more than 200 legislative acts under the following ten broad categories.
Horizontal (environmental impact assessments, access to information, strategic environmental assessment, public participation, and environmental liability);
Air Quality (ambient air, VOCs from petrol stations, SO2, NOx, particulate and lead emissions; Sulphur content in Fuel, Vehicle emissions, Emission Trading, Emission Ceilings, Ambient Ozone);
Waste Management (hazardous waste, packaging waste, sewerage sludge, waste oils disposal, PCBs/PCTs, battery disposal and labeling, landfill of waste, incineration of waste, disposal of vehicles, waste electronics disposal, hazardous substances);
Water Quality (Urban Wastewater, Drinking Water, Nitrates, Bathing Water, Groundwater, Dangerous Substances to water, Mercury, Cadmium, HCH Discharges, Surface Water Abstraction, Shellfish water, Fish water);
Nature Protection (Habitats, Wild Birds, Zoos);
Industrial Pollution Control (Pollution Prevention and Control, Solvents, Large Combustion Plants);
Chemicals (Dangerous Substances, Release of GMOs, Animal Experiments, Asbestos, Biocides);
Noise
Climate change
Industrial risk management and civil defence.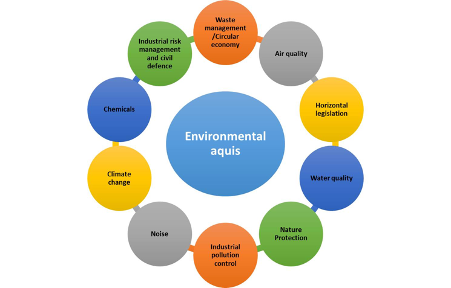 The number of directives is large — but in practice, many functions can be integrated and use common management systems.
This section provides an overview of the EU environmental policy in the following fields:
Air Quality
The EU strategies and legislation covers most, but not all elements of air quality assessment and management system. Certain issues are regulated by the EU and are binding for all Member States (e.g. definitions, air quality standards, rules for assessment, emission limit values, reporting, permitting procedures) while others are to be provided by national legislation (e.g. institutional setting or economic instruments). From the regulatory point of view, the Community legislation sets the basic standards mandatory for all Member States but often allows Member States to lay down more stringent requirements at the national level (provided that requirements do not create barrier to the Joint Internal Market).
The content of this section is based on the information materials developed in the framework of the project "Air Quality Governance in ENPI East Countries" (EuropeAid/129522/C/SER/Multi). More information on this project is available here.
Circular Economy
A circular economy is a regenerative system in which resource input and waste, emission, and energy leakage are minimised by slowing, closing, and narrowing energy and material loops. This can be achieved through long-lasting design, maintenance, repair, reuse, remanufacturing, refurbishing, and recycling. This is in contrast to a linear economy which is a 'take, make, dispose' model of production.
EU 2018 Circular Economy Package
As part of its continuous effort to transform Europe's economy into a more sustainable one and to implement the ambitious Circular Economy Action Plan, in January 2018 the European Commission adopted a new set of measures, including:
Climate Change
The European Union (EU) has long claimed, with some justification, to be a leader in international climate policy. Its policy activities in this area, dating from the early 1990s, have had enormous influence within and beyond Europe. The period since ca. 2000 in particular has witnessed the repeated emergence of policies and targets that are increasingly distinct from national ones and sometimes globally innovative.
Waste Management
EU waste management legislative system
The EU has some of the world's highest environmental standards, developed over decades. Environment policy helps the EU economy become more environmentally friendly, protects Europe's natural resources, and safeguards the health and wellbeing of people living in the EU.
In EU well developed legislative system for management of waste covers several aspects of waste management:
General framework legislation on waste management;
Requirements of waste management operations;
Legislation on specific waste streams;
Legislation on requirements on reporting and questionnaire.
General framework legislation on waste management
General framework legislation specifies sets the basic concepts and definitions related to waste management, such as definitions of waste, recycling, recovery. It explains when waste ceases to be waste and becomes a secondary raw material (so called end-of-waste criteria), and how to distinguish between waste and by-products. As well legislation establishes the classification system for wastes, including a distinction between hazardous and non-hazardous wastes. Legislation specifies under which conditions waste can be shipped between countries.
Water Management
This section provides a brief overview of the water management system in the EU. The following key legal documents are in the cornerstone of the water management system:
Water Framework Directive (2000/60/)
Drinking Water Directive (98/83/EC)
Bathing Water (2006/7/EC)
EU Flood Directive (2007/60/EC)
Waste water Directive (91/271/EEC)
Industrial emissions Directive (2010/75/EU)
Nitrate Directive (91/676/EEC)
These are described in more detail below.
Information in this section is adopted from the European Commission website.